Why You Need An Acro Program At Your Studio and How To Start One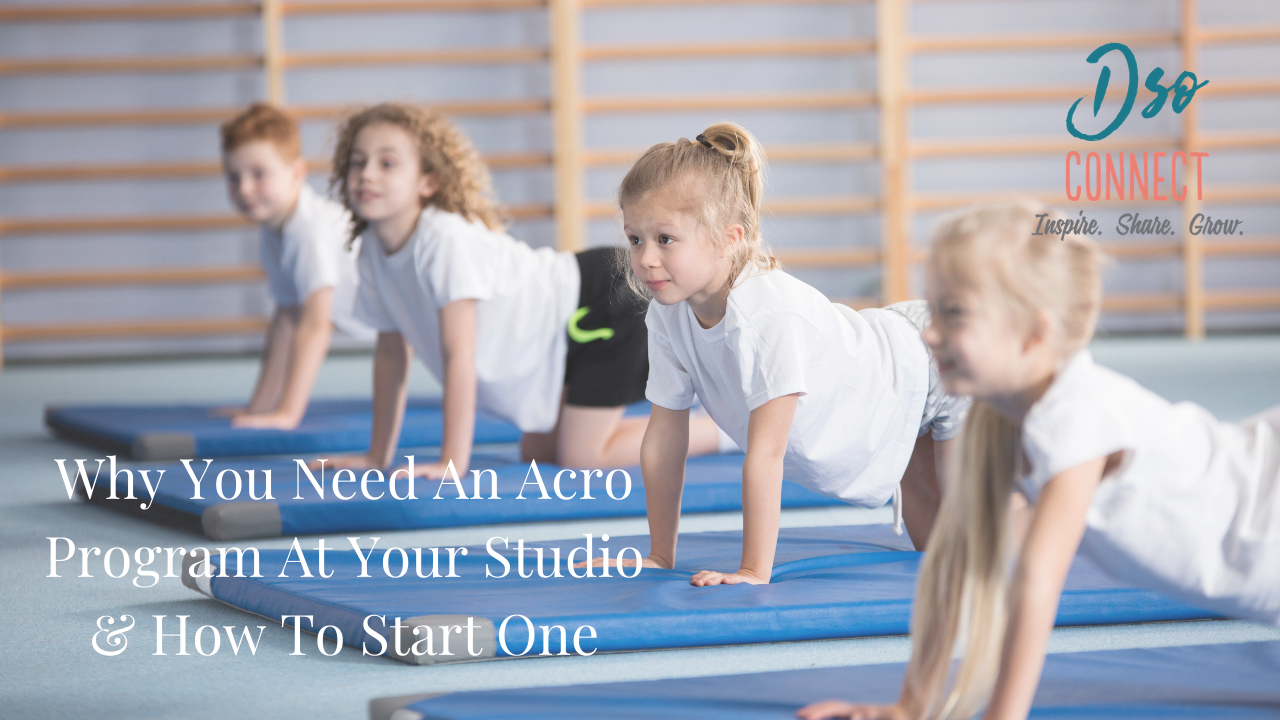 Why do you need an Acro program at your dance studio?
There are a multitude of reasons why an Acro program can benefit your existing dance program at your studio, let's look at a few of the reasons:
1. It will give your dancers an edge with increased strength, flexibility and the ability to execute a variety of tricks as well as increased technique.
2. By adding an Acro program, you can grow your student population offering something other than dance. You will have students that solely take Acro classes and not just dance classes.
3. You can upsell acro classes to your existing dancers. It's different and beneficial other than another type of dance class.
Let's look at the numbers. In my studio for example, we have had Acro/Gymnastic classes for years. I never really pushed these classes and on any given year we were lucky to have 10-12 kids in ONE class. A few years ago I changed the landscape of our Acro classes, advertised and focused on a fun, awesome recital dance and I increased my classes from 10 to over 50 students in ONE YEAR!!!
At $50 per class, that is an increase of $2000 PER MONTH!!! We also added preschool tumbling sessions for 8wks which netted us around $1200 for the 8 wks.
The benefits and the numbers alone are reasons why you SHOULD start an Acro program at your studio. If you have one already in progress, now is a good time to focus on building, advertising and growing your program.
So How Do I Start an Acro program in my studio?
We would recommend using a graded program like Acrobatic Arts or Acrobatique. Both programs utilize progressions that build the dancer up so that they are learning correctly and safely while making them feel like they are accomplishing their steps. For only $35 per month, you can have access to Acrobatic Arts online dictionary of steps and manuals on what to teach and in what progression. That's a small price to pay for your potential return.
What equipment do you need to start your program?
The one thing you will need to invest in is some sort of mat. These can be purchased online at amazon, tumbletrak, or so many other wholesale distributors. In the world of 6 foot social distancing it would be wise to look for individual mats for each dancer to have in their 6 foot social dis-dancing islands. If you are starting with a preschool program, you could always look at yoga mats for each child, or even have them bring their own. On the preschool level they won't be doing an abundance of actual tumbling, more skill building while having fun.
You can purchase cardboard hands at the dollar tree (in the teaching section) and label them Right and Left. I laminated them with my laminator (that cost only $21) and made one for each dancer to have on their Acro islands to help with hand placement when learning cartwheels, teddy bear stands and handstands.
You can purchase large foam dice online to roll for the class, and the number is the amount of conditioning they have to do of a certain step. Ex: you roll the dice, and it lands on 12, they have to do 12 pushups, etc.
You can also have each dancer bring an yoga block to class (that way they are not sharing) to work on strength and stretching techniques.
You can also use the wall, tape lines on their mats and other creative ideas to make class fun and productive.
Isn't it time to raise the barre at your studio and offer more than just dance classes while increasing your revenue!